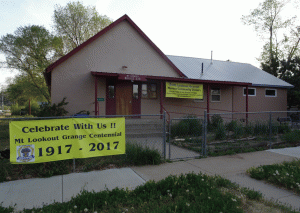 2017 has been active at Mt. Lookout Grange.  As well as hosting second Sunday community dinners, events at the Grange included Spring Bloom with May pole, Mt. Lookout Grange's 100th Birthday celebration featuring locals' memories and history of the Grange.  Construction of a building addition included a commercially certified kitchen and food pantry.  The pantry is operated by Mancos FoodShare, and provides weekly distributions to families in our community that are experiencing food insecurity. Other lively social events included a locally sourced American meal served to our visitors from Feins, France, Mancos' sister city, a pig roast featuring delicious local food, beverages, and live music; a free pancake breakfast honoring the Reverend Dr. Martin Luther King Jr., attended by more than 120 guests which included Mancos Elementary students.
The hard working Board of the MLG wishes to thank our amazing community for showing up.  We intend to continue to offer fellowship, education, and great food in 2018 and beyond.  May Bloom is scheduled for Sunday May 20th, and the annual Pig Roast Sat. Sept 15.  Get them on your calendar!
2018 memberships are due.  $38 includes discounted hall rental and notifications about all of our not to be missed events!  The National Grange collects $28 of that, and includes some other benefits.  You can pay at the Grange or to any Board member, or mail a check to 680 Grand Ave. Mancos 81328.  Thanks, we can't do it without you.
Life is What You Mancos