It has been busy summer at the Fairview Grange!  We have recommitted ourselves to do some serious cleaning, and freshen the hall up with new paint everywhere!
We've made serious headway.  The dining room is freshly painted, as is the kitchen, and much of the dance hall.
The stage has been redecorated and painted.  The piano is on the stage now, and will soon be retuned.  New track lighting has been installed, giving the stage a fresh, bright look.  The proscenium and the backdrop have a new color scheme.
Another change is the entrance to the dance hall which has been completely refurbished and repainted.
As well, the bathrooms have been thoroughly cleaned and new paint is everywhere.
The exterior now boasts a fresh, new paint scheme on the east and south sides.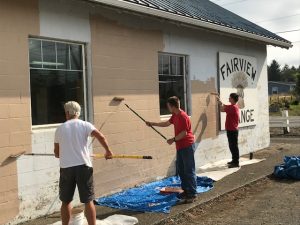 As well, the kitchen boasts a second stove and a new refrigerator.  Fresh paint there has brightened the area up.
This fall will bring even more changes, and some additional community events.
Exciting times!