The Fairview Grange
         The Fairview Grange is the oldest Grange in Tillamook County, and was founded in 1895, with 43 charter members.  It is the 273rd Grange to be organized in the country. The organizational meeting was held at the Obrist Farm, on Trask River Road about a mile south of the Grange Hall.
Check out our YouTube video: https://youtu.be/R_0ztIDKeiQ
         The Grange Hall was built in 1916, at a cost of $2000, and was then considered the finest Grange Hall in the state.  100 Grange members attended the dedication.
 Built before the advent of microphones, amps and speakers, the Hall was engineered to be acoustically dynamic, allowing speeches and musical presentations to project without a sound system.  The Hall has been extensively used for dances, concerts, weddings, markets, and other public gatherings. There is a full service kitchen. The Hall is available for rent.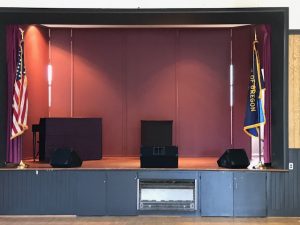 Today, the Fairview Grange offers periodic community soup and salad suppers, open mics and art shows (the first Saturday of the month), raising funds to maintain and improve the Hall, as well as to support community organizations, including the Wilson River alternative high school. 
We cooperate with the Oregon Youth Authority work crew at Camp Tillamook, which is helping us to refurbish the Hall. 
We have a new heat pump system, and new LED lighting, thanks to a generous grant and financing by the Tillamook PUD, Gitchell Heating and A/C, and Alderbrook and Associates electricians.
Find us on Facebook.
Our Worthy Master: Eric Sappington
The Grange is located at 5520 Third Street, Tillamook, Oregon (east of town, at the corner of Third, Olsen Road, Fairview Road, and Trask River Road).
Dues are $65/year per person.
                                      About the Grange – Patrons of Husbandry
"The Grange came into being in 1867 because of the vision of Oliver Hudson Kelley, a Minnesota farmer and activist.  He had long held that farmers, because of their independent and scattered nature, needed a national organization to represent them like unions were beginning to do for industrial workers. (video on origins of the Grange)
"Farmers were at the mercy of merchants for needed farm supplies and for marketing their crops. Railroads and warehouse companies were taking advantage of farmers. Kelley and some of his friends organized the National Grange as a fraternal group similar to the Masonic lodge. The early leaders were responsible for promoting cooperatives, which had the potential of helping farmers economically.  National Grange PBS ad
"From its earliest day, Grange lobbying efforts were effective; they remain a primary Grange service to rural America. By championing education, dramatic improvements were made in rural schools. The birth of the Extension Service, Rural Free (mail) Delivery, and the Farm Credit System were largely due to Grange lobbying.
"The Grange at all levels is strictly non-partisan and does not endorse candidates for public office nor contribute to their campaigns. At the national level, the Grange actively lobbies for causes in accord with organizational policy. All policy within the Grange originates at the local level. Thus, the organization remains as one of America's best examples of democratic, grass-roots activism.
"The primary legislative objective of the Grange is to represent the views of rural residents and the agricultural community. These issues include transportation, farm programs, rural economic development, education, health and safety concerns, and many others. Each year the policies are summarized and published in booklet form.
"Early in its history Grange leaders realized that social interaction was especially important to rural residents. For 140 years Grange halls have existed as community centers where residents gather for educational events, town meetings, dances, potlucks, and entertainment. Junior Grange, 4-H, FFA, Boy Scout, Girl Scout and other youth groups have thrived because of Grange involvement. Each year tens of thousands of Grange members give back to their community by participating in numerous service projects."  
—Oregon State Grange (http://orgrange.org)
Grange Motto:    
       In essentials, unity; in non essentials, liberty; in all things, charity.