Jazz, Art, and Jambalaya, November 16, 2019, 6 p.m. The popular jazz group, Jazzattitude, comes to the Grange for an evening of jazz, a jambalaya dinner, and an art show by local artists.  Dinner starts at 6 p.m., and is $15, with tickets available at the door. Music starts at 7 p.m.
We have a monthly Open Mic and Community Supper, the first Saturday of the month, starting at 6 p.m..   Dinner by donation.  Local poets, musicians, and storytellers take the stage for an evening of original works and community celebration.  Kid friendly. We are a supportive, casual venue for your talents.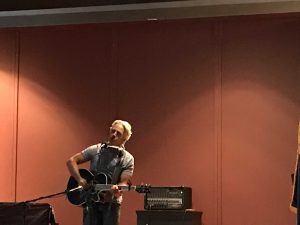 On Sunday, August 26, 2018 we hosted Cup of Joe, and celebrated the music of Joe Wrabek.  We had a full house, a great potluck and fabulous concert by a variety of musicians performing Joe's songs.
Private events can be scheduled through our event scheduler, Eric Sappington, (503) 741-9520 (a Google phone number — please leave a message). See our calendar on this site for events and available dates.