Legislative report given at January 23 Pomona meeting LegReport 2021 01 23
October 24 Pomona Meeting draft minutes 2020-10-24 clackamas Pomona Minutes
July 25 Pomona Meeting minutes 2020-7-25 Clackamas Pomona Zoom Meeting
July 13 Executive Committee Meeting 2020-7-13 Executive Committee Zoom Meeting
April 25 Pomona Meeting Minutes 2020-4-25 Clackamas Pomona ZOOM Meeting.
April 25 Treasurer's Report Treasurer March 31 2020 Financial Report for Pomona
April 14, 2020 Executive Committee Meeting Download 2020-4-14 ZOOM Executive Committee Mtg
February 22, 20202 5th Degree Minutes Download 2020-2-22 5th Degree Conferral
January 25, 2020 Pomona Meeting Minutes Download 2020-1-25 Clackamas Pomona Minutes
September 5ifth degree meeting download.
2019-9-28 Clackamas Pomona 5th Degree
July 27, 2019 Pomona meeting download.
April 27, 2019 Pomona Grange draft minutes Download 2019-4-27 Clackamas Pomona Grange Minutes
2019 april Vet Village Wishlist
January Draft Pomona Minutes 2019-1-26 Clackamas Pomona Minutes
February 2019 Newsletter Clackamas Pomona Newsletter Feb. 2019
2019-1-9 Pomona Exec.Com Minutes via email
2018-12-11 Clackamas County Pomona Grange Executive Committee Meeting
2018-10-27 Clackamas Pomona Minutes Warner Grange
October 27, 2018 – Pomona Officers for 2019-20 elected
Master/President – Ed Luttrell, Boring-Damascus
Overseer/Vice-President – Jeanie Force, Sunnyside
Lecturer – Kim Schettig, Beavercreek
Steward – Don Kingsborough, Warner
Assistant Steward – Jimmy Dumolt, Clarkes
Lady Assistant Steward – Jessie Jo Guttridge, Springwater
Chaplain – Celia Luttrell, Boring-Damascus
Treasurer – Suzy Ramm, Springwater
Secretary – Sandi Ludi, Sunnyside
Gatekeeper – Cody Dunsmuir, Eagle Creek
Pomona – Georgine Barrigan, Redland
Papers which are too short frequently disqualify candidates who do not have the academic writing abilities https://finance.yahoo.com/news/6-best-essay-writing-services-034800684.html essential to write such papers.
Ceres – Christy Dumolt, Clarkes
Flora – Jan Oleson, Abernethy
Executive Committee –
Annette Naylor, Clarkes
Joyce Parker, Springwater
Bud Dumolt, Beavercreek
Musician – Coralyn Congdon, Redland
October 27, 2018 – Pomona  Executive Committee  Supports Flag Pole Project

Download 2018 flag project flyer
July 28, 2018 – Draft minutes of Pomona Meeting Download
Clackamas Pomona Minutes
July 28,2018
The Clackamas County Pomona Grange #1 met on Sat., July 28,2018 at Springwater Grange. The Grange was opened in due form in the 5th degree with Master, Ed Luttrell, in the chair. 34 members were in attendance with 10 Granges being represented. 2 guests were introduced with one being a Junior Grange member.
Guests introduced were:
Riley Reynolds, National Junior Grange Ambassador
Tina Reynolds, member of Santiam Valley Grange in Linn Co.
Riley announced that this is the 130th year for the National Junior Grange. Go to the National Junior Grange website and look for the 130th Fundraiser. He has visited Linn Pomona, Terrebonne Grange, Lane Co. Fair, and the Oregon and Washington State Grange sessions.
Roll call found the following officer absent:
Celia Luttrell, Lecturer  ;  Kim Schettig, pro-tem
Minutes of the April 28, 2018 minutes were distributed. No corrections. Motion made to approve the minutes. Motion passed.
STANDING COMMITTEES
Legislative
Don Kingsborough spoke on the Canby Ferry Project. If you google Canby Ferry you will see an Alternative Study. It  showed that it's mostly  used for recreation and shopping.
A new coalition; Connect Americans Now, is trying to bring high speed internet to rural areas. Granges may add their names to the list of coalition members.
Clackamas Co. Sheriff's Office is doing police services for Estacada.
AGRICULTURE
Tami Guttridge reported that all their hay is baled. It was a great year for hay, but there are problems exporting as much as usual.
GWA
No report
DEAF AWARENESS and FAMILY HEALTH
No report
YOUTH
Jessie Jo reported that both our National Youth Director and Junior Director were at the Oregon State Grange session. Tina Parker from Springwater Grange and Mary Mitchelldyer from Abernethy Grange won GWA Scholarships. Suzy Ramm from Springwater Grange won the youth sponsored Sign a Song Contest and Jessie Jo Guttridge won the Public Speaking Contest. Both will be representing Oregon at the Western Regional Conference in Olympia, Washington. Gracie Hayes won 3rd Place in Grange Jeopardy. Unfortunately, she can't attend Regionals. Gracie Hayes and Brianna McKay (Abernethy Grange), Cody Dunsmuir (Eagle Creek Grange), and Jessie Jo Guttridge (Springwater Grange) were State Youth Officers. Jessie Jo closed the OSG session on Wednesday.  A total of 1,061 items were collected for Keeping the West Warm and will be distributed through District 3. Jessie Jo is Oregon's new State Youth Ambassador. She and Suzy Ramm attended the Washington State Grange Session in June. The GROW Club served at an Ice Cream Social at North End Grange in Wallowa Co. 100 people attended and served 70 dishes of ice cream. Western Regional Conference is in Olympia,Washington August 3-5. Jessie Jo Guttridge and Suzy Ramm will be attending the California State Grange Session in September.
MEMBERSHIP
Ed Luttrell reported that a monthly email has been going out to each Grange. Sandi Ludi mentioned that David McBride is our new OSG Membership Director. He is from Hurricane Creek Grange in Wallowa County.
SPECIAL COMMITTEES
Cookie Booth
Eileen Dale reported that there are 1,000 cookies in the freezer ready to go. Senior Day at the Clackamas County Fair is Wednesday and will be giving cookies away to seniors. New ovens are ready to go as well.
FFA
Don Sether suggested that Grangers attend County Fairs and while there go to see the FFA exhibits.
Degree Day
Leila Dumolt announced that Degree Day will be on Sun., Sept. 16, 2018 at Molalla Grange.
2019 State Session Hosting Committee
Joyce Parker reported that we will be at Molalla High School for the 2019 OSG Session. The next couple Steering Committee Meetings will be as follows:
Sun., Sept. 30           2pm at Abernethy Grange
Sun., Oct. 21             3pm at Parkdale Grange, Hood River Co.
2pm  Meet to eat as it's Parkdale Grange's
Harvest Dinner
So far Parkdale Grange is in charge of the Welcome bags. Jeanie Force is in charge of the 5th degree. Jessie Jo Guttridge and Sue and Chris Dumolt are in charge of the Rosebud Drill. Bev Bush and Clarkes Grange will be doing the meals.
Scholarship
Jan Oleson received one scholarship application. It was
recommended to give the recipient $1,000.00.
Roast for Nina Stables
Don McKinnon announced that the roast will be on Sat., Sept. 22 at 4pm. It will be held at the Viewpoint Restaurant. $25.00 per person which includes gratuity. Seating is limited to 60 people. Get tickets from Barbara McKinnon. Checks to be made out to Clackamas Co. Pomona Grange.
Clackamas County Deputy Report
Joyce Parker is concerned about Milwaukie Grange. She will contact their membership before our next October Pomona Meeting. Granges are looking for new members. She is available to help any Grange. Many Granges are busy doing activities.
REPORTS OF SUBORDINATE GRANGES
Abernethy—Two youth members were State Youth Officers. Several members entered various contests at State Session. 9 members visited Redland Grange's BBQ and meeting. They delivered Billy the Goat that evening.
Beavercreek
Mother's Day Breakfast and Bazaar was well attended. The Grange cleared over $450.00 serving food in the kitchen during the Oregon City Children's Theater performance of "James and the Giant Peach" at their hall. They may be replacing their shed with a storage unit.
Boring Damascus
They had a successful Strawberry Waffle Breakfast in June. Boring/Dull Day will be held on Aug. 9. Grange will be barbecueing.
Clarkes
Raised over $1,100.00 during their Spring Bazaar in May. The money will benefit the Clackamas County Veterans Transitional Housing Project. They plan to present the check at one of the Clackamas County Commissioners meetings. Donated to State projects, High School Grad Party,  Meals at the Senior Center, American Cancer Society, etc.
Eagle Creek
Collecting school supplies and food items for the Estacada Food Bank. Members visited The Sandy Grange and the Boring/Damascus Grange. They are having a Spaghetti Dinner Fundraiser on Sept. 21 at 6pm. One of their youth members made the front page of the Estacada Newspaper. She visited many organizations trying to raise funds for a trip to visit the University of Massachusetts.
Molalla
Having regular rentals. Cleaning and organizing things in the Kitchen area and painting  Women's Bathroom floor. Gleaners and Dogs for Better Lives are using the hall every month.
Redland
Feed the homeless every Monday at Clackamette Park. Clean up Day in May. Had a successful Annual Picnic with visitors from Abernethy Grange. Doing hall improvements. Labor Day Community Rummage Sale will be held. Members
entered contests at State Grange and won ribbons. Their musician played for the 5th Degree at State Grange.
Springwater
Springwater Grange gave dates of upcoming events at their hall. A highlight will be a National Night Out and Life Line Screening in August. Candidate Forum on Sept. 30. Halloween Party on Oct. 27.
Sunnyside
Shred It Day on May 19 was a success! Over 4 tons of paper shredded and collected over 200 lbs. of food, and over $1,200.00 in donations going to the Oregon Food Bank. That same day some members made 16 pillowcases for the Troops (a GWA project). Metal Beavers Robotic Club gave a demonstration at the May meeting. At our July meeting we had a guest from Phillips Corporation (which made the AED) and she gave a demonstration on how to use it. Members made 8 Quilt Blocks to send to State Grange.
Warner
Delivered 4 Cuddle Cots to various hospitals in the Portland area. They have developed a GoFundMe account. This project was highlighted on the Channel 2 News. Hosted a Bluegrass Concert in June. They have regular Zumba classes, Quilting, Home School Theatre Group and Scout meetings at their hall. Members voted at their last meeting to allow renters to use beer, wine, and champagne at their hall with proper insurance, licenses (licensed bartenders) and permits.
The following resolution was read:
"Added" Sugar Wording on Honey and Maple Syrup Labels
COMMUNICATIONS
Pomona Task Force meeting—Sat., Sept. 15 10am at Terrebonne Grange, Deschutes Co. Pomona Masters and Secretaries and 2 other Pomona members from each Pomona asked to attend.
Letter from OSG reminding our Pomona Grange to file IRS 990e filings.
Resolution acknowledgements from the OSG.
Ed Luttrell received a letter asking that our Pomona Grange endorse a candidate. He will respectively reply and note that the Grange does not endorse any candidate. He encouraged us to go back to our Granges and relay that information.
BILLS and ACCOUNTS
Balances: Regular Shares                   $1,696.22
2013 Hosting Com. Checking             $2,219.89
CBM Scholarship Fund Money
Market                                                    $2,619.56
Youth Fund                                                $864.89
Junior Fund                                                $452.97
Checking Account                                          $8.16
Receipts since the last meeting were $44.80 and disbursements made since the last meeting were $1,295.80.
MSC to pay the bills.
UNFINISHED BUSINESS
Ed Luttrell invited Washington County Pomona Grange Officers to attend the Pomona Officer Installation on Jan. 1, 2019. It will be at 2pm at Abernethy Grange.  The youth will be doing the installing.
NEW BUSINESS
MSC to reimburse Leila Dumolt $164.23 for material for new attendant robes for the 5th degree.
MSC that District #4 will exemplify the 5th Degree next year at the 2019 OSG Session.      Jeanie Force will be putting together the team and trying to get new officers for the 5th degree from each county in District 4.
MSC that we award a  $1,000.00 Charlie Bowser Scholarship to Tina Parker. She is a member of Springwater Grange.
MSC that Clackamas Co. Pomona Grange endorse and support the Can Project.
MSC that Clackamas Co. Pomona Grange have a fairbooth at the Clackamas County Fair.
MSC that Clackamas Co. Pomona Grange sponsor the Scarecrow Contest at the Clackamas Co. Fair. Motion failed.
MSC that we authorize $100.00 to be taken out of the Youth Fund for the youth to attend the California State Grange Session.
MSC that Clackamas Co. Pomona Grange co-sponsor the OSG Session next year.
Recess at 11:30am.
Grange Connection Time/ Lunch
Masters will meet to go over the resolution that was submitted.
LECTURER'S PROGRAM
Sister Kim Schettig read what the colors of the flag stand for. Old Glory Red, White, and Old Glory Blue are the true colors.           Flag Day is not a National Holiday. Robert Heft designed the 50 star flag. He was 17 years old. Group sang "Grand Old Flag."
Meeting reconvened at 1:00pm in the 5th degree.
Springwater Grange members were thanked for a wonderful meal.
The committee report for the resolution on "Added Sugars" was favorable as amended.
MSC that the resolution is approved as amended.
MSC that we provide 4 tickets to the Stables family for Nina's Roast.
DELEGATE REPORTS
Bother Ed Luttrell enjoyed working with the Youth on their floorwork. He also spoke on a few resolutions. He encouraged us to look at old policies (10 years and older) and update them. He will have more to report on next time.
Sister Annette Naylor gave her report. She was on the By-laws Committee. All of the Clackamas Co. resolutions were adopted or adopted as amended. She was proud to serve on the 5th Degree Team and the Installation Team.
SUGGESTIONS FOR THE GOOD OF THE ORDER
Brother Don Kingsborough gave an Oregon lapel pin to Riley and a Smily face pin to his mom, Tina.
Joyce Gunn was presented a Grange pin.
OSG will be participating in the Veterans Day Parade on Sat., Nov. 10 in Albany, Or. Contact Jim Clute, OSG Veterans Director if interested in participating.
Joyce Parker reported on roads that are being striped in the next few evenings. Fire danger has gone up to Class 3.
Riley thanked us for inviting him to our Pomona meeting today.
ANNOUNCEMENTS
Aug. 7  National Night Out at Springwater Grange and Ice cream Social   7-8:30pm
Sept. 15  Springwater Grange Community Fair  Noon to 6pm
Sept. 21  Spaghetti Dinner at Eagle Creek Grange  6pm
Sept. 30  Springwater Grange Candidates Forum  4pm
Oct. 19  Boring Damascus Grange hosting a Candidate Forum
6pm Free spaghetti dinner
7pm Candidate Forum
The next Pomona Grange meeting in October will be election of officers. Go back to your Grange and ask folks if they are interested in running for an office.
Door prizes were given out.
Secretary read motions that were made today.
Meeting closed in due form at 1:47pm.
Fraternally submitted,
Sandi Ludi
Clackamas Pomona
Secretary
April 14, 2018 – Grange Month
Pomona members and Redland members attended the April 12 Clackamas County Commissioners meeting where April was proclaimed Grange Month by the Commissioners.
Also, Eagle Creek Grange was at an Estacada City Council meeting where the Council proclaimed April as Grange month.
March 23, 2018 – Minutes
Download the draft January Pomona Minutes
Download the draft February Pomona Minutes
March 6, 2018 – Scholarship applications are available.
Download the Charlie Bowser Memorial Scholarship app
February 13, 2018 – Afternoon of Learning
Clackamas Pomona Grange hosted an afternoon of learning on Sunday, February 11 at Clarkes Grange with the subject of Teams for Grange Membership.
The afternoon began at 1:00 p.m. with the question, "Why is membership important?" The group determine that membership is important for:
Today

Our current Members
Our Friends and Neighbors
Our Community/State/Nation

Future
The group discussed the value that the Grange brings to each of the groups and felt that any were good reasons to focus on membership.
Next the question of what "The Elements of Sustainable Growth?" was posed. The group came up with the following:
Members engaged and enthused
Grange is welcoming and open – members enlarging their comfort zones – The Grange is ready for new members
Membership is a priority for leaders and members
New members on a regular basis
The next section was on recruiting new members. The group discussed the need for every member to be part of the membership recruitment effort.
Then the 4-steps of membership recruitment were covered. The four steps were explored and why each step is important to effectively recruit new members. The steps are: 1. Set the stage. 2. Listen. 3. Fill the Need. 4. Ask. The section was completed with several members practicing the steps with role playing.
The group enjoyed a break with some coffee and cookies. The members talked with other on various aspects of membership.
The next membership topic was retaining members. The focus was having a healthy Grange that meets the needs of members. The need to ensure that members are being satisfied by their membership was discussed.  The Grange needs interaction with the community to be successful and the there was a great deal of discussion. The section then moved into the importance of having harmony and team spirit among the Grange members.
A series of programs that Granges could use were presented.
Revitalization and Invigoration of My Grange – The Triple A Approach
Save My Grange
Don't Gamble with Your Granges' Future
Start a Fire Burning in Your Grange
Good or Great
Appreciative Inquiry
The group talked about each program and some of their similarities and different approaches.
The next section was on new Granges. The goal is to have Granges in communities currently not served by a Grange. Points mentioned was that placement of new Granges should infill the currently Grange jurisdiction rather than be random. Existing Granges need to be part of the team expanding the Grange instead of viewing new Granges as competition. The question of where to place new Granges in the county was posed.
The final section of the afternoon was on growth with teamwork. The following points on building teams was made.
The Leader Sets the Boundaries and Shares the Information
Each Member is Responsible to Help Make the Decisions & Develop the Plan
Success is Due to the Team Making and Carrying Out the Correct Decisions
Genius with Helpers vs Team were all have an important role.
Each participant had an opportunity to share their ideas or make a comment. Door prizes were given out and the afternoon of learning was concluded.
February 4, 2018 – Afternoon of Learning
Clackamas Pomona Grange hosted an afternoon of learning on Sunday, January 28 at Redland Grange.
The afternoon began at 1:00 p.m. with the question, "Why do we have meetings?" The group determine that the meeting was to:
conduct the business of the organization
provide a social connection for the members
offer educational opportunities
and to make decisions on the direction and action of the group.
Next the question of "Why don't people attend?" was posed. The group came up with the following:
meetings too long
boring
members are busy
transportation issues
work
sports events
conflicts with other activities
health of members
and other excuses.
Each was talked about and the group determined that some were just excuses, and others were solvable problems. None of them were insurmountable.
Then four Pomona officers offered their view of how their Community Grange counterparts could help.
Secretary: It is important to be organized, have what you need ready for the meeting so that you're not hunting through piles for the next item. Take notes, be exact/precise for the minutes. Do not include extra details. Communicate through email, text messages, postal service mail, or other ways that your members desire. Also, to stay in communication with the Lecturer and Master so that all are aware of upcoming ideas at the next meeting or to promote upcoming speakers or issues to the members. Be ready to read the quarterly report and to then send it off promptly. The oversee the dues collection process. It was suggested that it is good to have members help the secretary in their duties.
Lecturer: Easy to have fun in this position. It is important to know your members and their talents. Be organized, even if you only get organized the day before. It is important that you have something at every meeting, even if only for a few minutes. Encourage connections between members.
Chaplain: Should provide spiritual leadership. Communicate with the members who are ill or have been affected by a death.  Conduct an annual memorial program. Be prepared for prayers. Celebrate milestones of members. Always have a small supply of cards on hand for unexpected use.
Master: The Master is the facilitator of the meeting and members wishes. They don't debate, make motions, or otherwise participate directly in the meeting. Need to be paying attention to the members in the room. The Master is also a team builder. It is critical that when teams are formed that they are giving the opportunity to carry out their task as they see it. The Master should stay in touch and provide help, but never micro-manage the team.
The group took a break and enjoyed refreshments provided by Redland Grange.
The second half of the conference began with a discussion of why the Grange has ritual work. The group determined that the ritualistic work of the Grange has three main purposes. It provides a common identity, it serves as a reminder to members why we're here and that it is a Grange meeting, and it allows the members to develop pride in themselves and their organization.
Then the members walked through the opening ceremony, presenting guests, balloting for candidates, the welcoming ceremony, and then the closing ceremony. Many questions were asked by the group and all gained a better understanding of how to do these things.
The afternoon wrapped up with some questions and answers and the group expressed their pleasure with the opportunity to learn during this afternoon. The last thing of the afternoon was the presentation of door prizes.
February 3, 2018 – Newsletter
Clackamas Pomona Grange Newsletter—February 2018
The January 27, 2018 business meeting was held at Beavercreek Grange.
Suzy Ramm was appointed Facebook Administrator and will develop a Clackamas Pomona Grange Facebook page.
The Grange Builder Program will be discontinued.
Two Pomona Luncheon tickets will be given to each Subordinate/Community Grange to be used for each upcoming Pomona Grange meeting.
All future Pomona Grange meetings (excluding July meeting) will break from

11:30am to noon

so members can connect with each other and Subordinate/Community Grange Masters can review resolutions if there are any.
Sam Keator, Washington/Yamhill County Pomona Master is needing help with filling officers to exemplify the 1
st
through 5
th
degrees on

Sat., Feb. 24

. Contact Sam at 503-819-2689.
Resolved that Clackamas Pomona Grange #1 appoint a committee to work with the Pomona Legislative Chairman to research these issues and write resolutions as needed for consideration at the April 2018 Pomona meeting. Committee report was favorable. Resolution was adopted.
Resolved that the Oregon State Grange policy include support of an east/west interstate or limited access expressway from Coos Bay to Ontario, and be it further resolved that the policy also include support for a north/south route from Central Oregon to an interstate in Nevada. Committee report was favorable. Resolution was adopted.
Resolved that the Oregon State Grange policy that
removes any legislative policy without action of the delegates be rescinded. Committee report was favorable. Resolution was adopted.
Feb. 3
Breakfast at Springwater Grange
7am to 11am
Feb. 3
Breakfast at Beavercreek Grange
8am to 11am
Feb. 9
Sweetheart Dinner at Eagle Creek Grange
6:30pm
Feb. 11
Sweetheart Breakfast at Clarkes Grange
8am to noon
Feb. 11
Membership Conference at Clarkes Grange
1pm to 5pm
Feb. 18
Degree Day at Eagle Creek Grange
2pm
Feb.
23
Scholarship Pie Auction at Springwater Grange
Feb. 24
Exemplification of the 5
th
Degree at Maplewood Grange
6:00pm-6:45pm
Youth Dinner
$5.00 each person
6:45pm
Lecturer's Program and Pie Auction for Charlie Bowser Scholarship Fund
8:00pm
5
th
Degree Exemplification
Feb. 24
Community Dance at Milwaukie Grange
Mar. 3
Breakfast at Springwater Grange
7am to 11am
Mar. 3
Breakfast at Beavercreek Grange
8am to 11am
Mar. 5
Visitation at Abernethy Grange
6:30pm

potluck
7:30pm

meeting
Mar. 17
St. Patrick's Day Dinner at Beavercreek Grange
4:00pm to 7:00pm
Mar. 24-25
Anything Goes Sale at Boring-Damascus Grange
10:00am to 5:00pm
Mar. 31
Pancake Breakfast at Harding Grange
8:00am to 10:00am
Egg Hunt begins at

9:00am
April 6&7
Springwater Grange Players Presents A Good Old Variety Show
7:00pm
April 8
Show begins at

2:00pm
April 13-14
Flea Market at Eagle Creek Grange
Pomona Roster Information:
Jan Oleson from Abernethy Grange has a new phone number
503-759-7168.
June 27, 2017 – Speakers Bureau
The Pomona has started a speakers bureau in honor of the Grange's 150th Anniversary. Download the flyer: Speakers.
April 10, 2017 – Pomona Memo
2017-3-10 Clackamas Pomona Memo
March 28, 2017 – Charlie Bowser Memorial Scholarship
Charlie Bowser Memorial Scholarship application
Download the  Scholarship application. Email to Chair Jan Oleson at [email protected] or mail to Jan Oleson, 904 Meadow Drive, Molalla 97038 by April 15, 2017.
January 28, 2017 – Grange takes Position in support of Legislative action to aid Vocational Agriculture and FFA

On Saturday January 28, the Clackamas Pomona Grange voted to adopt a resolution as follows:
Support of Vocational Agriculture and FFA
Whereas          100% of Vocation Agriculture education programs incorporate Science, Technology, Engineering, and Math (STEM) which is a priority for educational efforts in Oregon, and
Whereas          Oregon businesses have a long history of supporting and working with Vocational Agriculture and FFA, and
Whereas          the Vocational Agriculture and FFA programs have strong support among the alumni of these programs with over $1,000,000 worth of donated time and over $500,000 in actual cash were donated in 2016, and
Whereas          The Student Supervised Agricultural Experience (SAE) is a hands-on educational aspect of Vocational Agriculture and the FFA which has an estimated economic impact of nearly $14,000,000 and prepares the students as future employees and entrepreneurs, and
Whereas          The national average of extended contract for Vocational Agriculture teachers is 36.5 days and Oregon only averages 15.5 days, and
Whereas          74% of Agriculture teachers teach manufacturing courses and 43% are the only manufacturing teacher at their school and 59% are the only welding teacher at their school; therefore be it
Resolved         that the Clackamas County Pomona Grange support the Vocational Agricultural education program in the School Districts of Clackamas County, and be it further
Resolved         that the Clackamas County Pomona Grange support legislative efforts to enhance the funding for Vocational Agriculture and the FFA programs which fund extended contracts and provide incentives for those who choose to become Ag teachers.
October 22, 2016 – Grange Takes Stand in Support of FFA and Vo-Ag Education
On Saturday, October 22 the Clackamas Pomona Grange voted to adopt a resolution  in support of vocational agriculture, affiliated programs, and the FFA program in Estacada School District. The resolution follows:
Vocational Agriculture Education in the Estacada School District
Whereas:   Estacada High School is located in a rural agricultural area: and
Whereas:   the Vocational Agriculture program instructs and develops students into strong leaders for the future: and
Whereas:   The Vocational Agriculture classes have a positive effect on high school graduation rates: and
Whereas:   This would be a good time to reinstate the Vocational Agricultural education and affiliated programs: and
Whereas:   Granges across the nation have a long history of assisting and helping these programs and
Whereas:   There are four Granges in the Estacada School District who are willing to help when needed:  therefore, be it
Resolved:  That Clackamas County Pomona Grange #1 requests the Estacada School District reinstate the Vocational Agricultural Education and FFA program at Estacada High School.
October 22, 2016 – Grange elects officers for 2017-2018
The officers of the Pomona Grange were elected at the regular meeting on Saturday. Elected were: Master/President – Ed Luttrell, Boring-Damascus; Overseer-Vice President – Don MacKinnon, Springwater; Lecturer – Celia Luttrell, Boring-Damascus; Steward – Don Kingsborough, Warner; Assist. Steward – Dan LeBrun, Eagle Creek; Lady Assist. Steward – Jessie Jo Guttridge, Springwater; Chaplain – Barbara Brockway, Eagle Creek; Treasurer – Eileen Dale, Warner; Secretary – Sandi Ludi, Sunnyside; Gatekeeper – Bud  Dumolt, Beavercreek; Ceres – Leila Dumolt, Beavercreek; Pomona – Kathy Assad, Redland; Flora – Annette Wanker, Redland; Executive Committee – Don Sether, Molalla; Annette Naylor, Clarkes; Tami Guttridge, Springwater; Musician – Ruth Newman, Springwater.
September 18, 2016 – Initiation of New Members Conducted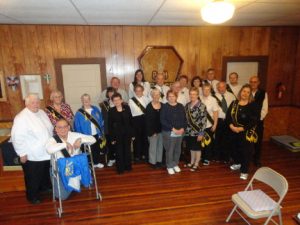 The officers who conferred the first four degrees at The Sandy Grange on Sunday, September 18.