---
Holiday Dance &
Homeless Youth Fundraiser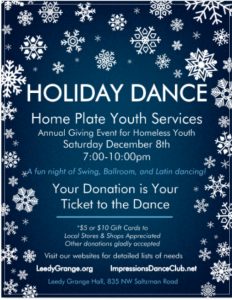 December 8, 7:00 -10:00pm
Leedy Grange announces its annual Holiday Dance and fundraiser for Home Plate Youth Services.
Your donation to Home Plate is your ticket to dance! Last year you helped us raise $2500 in gift cards and donations for homeless youth in Washington County. Gift card donations allow homeless youth to buy a small item for themselves, but (often more importantly) allow them to buy a gift for a loved one. Please help us again this season by bringing your donation to the dance.
Thank you for your support!
Leedy Grange Hall – 835 NW Saltzman Road, Portland 97229
What to donate at the dance:
Gift cards (between $5 and $20 suggested) to Dollar Tree, Fred Meyer, Target, coffee shops, Subway, movie theatres, etc. 

Backpacks

Two person tents

Waterproof winter gloves

Beef or Turkey Jerky (individually wrapped)

Cases of Water

Bus Passes

Hygiene Products
Details on dances:  ImpressionsDanceClub.net.  
Information about HomePlate:  HomeplateYouth.org .
---
What Is Grange?
The Grange is a nonprofit, nonpartisan organization based in more than 2,100 hometowns across America. We have nearly 150 years of history, a spirit of grassroots advocacy, and a community spirit that we're happy to share with you.
To learn more about the Grange, read our Declaration of Purposes or download a membership brochure . You can also learn more about Grange Youth for those 14 to 30 years of age and Junior Grange for children 5 to 14 . Grange members enjoy many benefits, including discounts on energy, vacations and medical services. To learn more, read our member benefits brochure .
We'd love to tell you about the exciting opportunities the Grange offers. Stop by a meeting anytime. They're always open to the public. If you'd prefer to support rural America and agriculture on your own time, you can look into E-Membership. E-Members enjoy the same benefits as community Grange members and have all materials delivered to their inbox.
American Values. Hometown Roots.