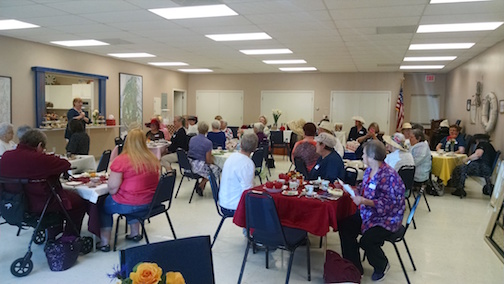 Our hall, located at 14443 Charlton Road, is a perfect place for meetings, family reunions, small weddings (indoors or out) and other events.  We have a lovely forested outdoor area with picnic tables and a nature trail you can use as well. Capacity is 120 people in the hall.   Please see our calendar page to check for availability. 

RATES:
• $300 for non-island residents
• $200 for island residents
• $100 for Grange members
• $100 for Island businesses
• $150 for non-Island businesses
• No cost for approved Island organizations
• For memorial services, $50 for island residents and no charge for grange members.
• Special rates may apply for fundraisers and community events.
• $100 for use of the outdoor picnic area only.
• An additional $75 for use of our updated kitchen with all appliances.
• Chairs and tables are provided at no charge with hall rental.
OTHER DETAILS:
• Ample parking on site.
• All renters must provide a certificate of insurance naming the SI Grange as an additional insured with general liability limits of $1,000,000.
• Smoking is not allowed in designated outdoor areas only.
• Alcohol is allowed with extra fees if you engage a licensed bartender and a paid security guard.
DEPOSITS:
A cleaning fee and security/damage deposit is
• $200 for non-island residents or first-time users ($100 refundable.)
• $100 for island residents ($50 refundable.)
• $50 for grange members or island organizations (All refundable.)
PAYMENT:
All fees must be paid in advance to secure the date. Checks are payable to Sauvies Island Grange #840.
CANCELLATION:
The renter will forfeit the rental fee if a cancellation occurs within 48 hours prior to the start of the event.  Cleaning deposits are returned without restrictions.
To find out about availability check our activity calendar page or to reserve the hall, please contact Kat Topaz 503-708-0008 or email, [email protected].