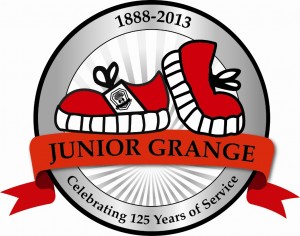 2018 Juniors: Crafts and Creative Writing
Important Contest General Rules:
Age Ruling: Junior member's age as of January 1 of current Grange year will be used to determine which age category contest entries will fall into in the Junior Department. National Grange entry tags will ask for age as of January 1 of current year. We recommend that all leaders keep a file of birthdates of members.
Open to all junior Grange members. Junior Grangers are children of Grange members and/or grandchildren of Grange members.
All work must be that of contestant. NO KIT's.
If hanging type, must have a hanger to display. If a craft requires a hanger it will not be counted in the measurements provided it is a simple string, yarn, or wire hanger. If it is part of the design of the craft and/or is decorative, it will be considered as part of the craft and included in the measurements.
All entries must be labeled with contestant's name, address, age as of January 1, Junior Grange name, number, and state.
CRAFTS will be judged on the following: Originality of design; workmanship and neatness for age. CREATIVE WRITING will be judged on the following point system: Originality – 25 points; clarity of thought – 20 points; organization – 25 points; effective and creative use of language – 20 points; neatness – 10 points.
Creative Writing – 2018 Theme
Why should you and others recycle….?
1) Five age groups: 6 and under, 7-8, 9-10, 11-12, 13-14.
2) Must use the theme. May be a story, poem, or skit. Entries with use of unnecessary brutality or social violence will not be accepted.
3) Entry should be placed in a folder with label at the VERY TOP CENTER OF FRONT COVER.
4) Suggested length guidelines: Age 8 & under approximately one page; ages 9-14 approximately two pages. Please double space to aid judging. Age 6 & under may dictate their entries.
5) NOTE: Junior craft contests have different age categories.
Pine Cone Turkeys
This turkey is colorful and easy for youngsters to make. When complete, they make cute table decorations at each place setting for thanksgiving dinner or for your holiday parties. Parental supervision is recommended.
This project is rated EASY to do.
What You Need:
Plump pine cones (spherical shaped about 1-1/2″ or 2″ diameter)
1 red bumpy chenille stem
1 orange bumpy chenille stem
5 other colors of bumpy chenille stems
Glue (craft, wood, or all-purpose that dries clear)
Wire Cutter
How to make it
Make sure each pine cone has dried thoroughly.
Cut the bumps apart in each chenille wire. Using wire cutters, cut in the center of each place where he wire narrows down-you want the bumps whole and fluffy.
Take one red bump and shape into a 'S'. Glue this to the rounded end of the cone with the bump protruding somewhat above the cone of the head of the turkey.
Take one orange bump and shape into a 'V'. Glue this under the bottom of the round part of the cone for the legs and feet. The feet can be shaped later. Toes can even be added.
Take five to seven other bumps and carefully bend so the narrow ends can be twisted together leaving the puffy end somewhat rounded. Glue as many of these as nicely fits close to the fatter stemmed end of the pine cone. Remember to use glue only on the twisted end of the chenille wire.
Let dry and then adjust shape of chenille wires to make your turkey look more realistic.
Tip: If you would like to use these as napkin rings, cut the orange chenille wires longer and make them into a circle and glue circle on bottom of turkeys.
Sailboat
Supplies: 1/2 gallon milk jug with lid, Scissors, Acrylic paint, Paintbrush, 12 inch wooden dowel, Scrapbook paper or craft paper, White glue, Stickers.
Have an adult cut a rectangle from the side of the milk carton with the handle.
Paint your boat and let it dry.
Cut a hole between the rectangle and the handle. Stick thedowel into the hole and push it down to the bottom of the jug.
Decorate the boat with stickers.

Put a few treats inside a cardboard tube. Cover both ends with tape.
Stack four pieces of tissue paper. Wrap them around the tube and tap them in place. If the paper is a lot longer than the tube, trim a little off the ends.
Tie each end with ribbon. Ask an adult to curl the ribbon. Cut the ends of paper into strips to make fringe.
Decorate the wrapped favors to match your party theme.Glue triangle sails back to back with one side glued along the dowel. This Little Piggy is a Pop CanA CUTE little Piggy bank can be made by decorating an empty pop can.What you need:

Pop can, Enamel spray paint, Black felt, Pink paper or cardboard, Small square of foam movable eyes, plastic flower.

What you do:

Spray the pop can with two coats of paint. Cut out two black felt ears and two pairs of black felt feet using the patters.

Glue the wide end of each ear just below the top rim of can near the sides. Glue the two pairs of feet slightly off center near the bottom of the can.

Cut out a pink paper or cardboard nose, Place this near the center of the can with the square of foam glue between the nose and the can. This allow the nose to move. Glue the movable eyes in place. Glue the plastic flower near the top, between the ears.

Perfect Party Favors

Supplies: 1 cardboard tube for each favor. A few small wrapped candies or toys for each favor. Clear tape. Colored tissue paper. Scissors. curling ribbon. Glitter or stickers to match your party theme.

Mini Garden

Supplies: 1 gallon milk jug. Scissors. Permanent markers. Pushpin. Potting soil. 3 – 4 flower seeds. Ribbon. Plastic plate.

Ask a adult to cut an opening in the milk jug, as shown. Do not remove the side with the handle, it will make the gardener easy to carry. Use permanent markers to decorate the jug.
Use the pushpin to poke 20 holes in the bottom of the jug for drainage.
Fill your jug with potting soil.
Plant three or four seeds. Leave plenty of space between seeds.
Add a final touch by tying ribbon around the jug's lid.
Place the planter in a sunny window. Place a plate beneath the planter to catch any water that drains out or put the planter outside.
From Christmas Cards
Besides lots of old Christmas cards (or other greeting cards), you'll need coloring books, waxed paper and glue. For these projects you'll also need paper plates, crayons, yarn, stones, tape, the lid from an egg carton, string, plastic flowers and a variety of small boxes. Work on waxed paper.
Card Mosaics
You may cut the cards or tear them into small pieces. Then, let the kids glue them onto pictures in their coloring books. Cover a small area with glue at a time; then add the mosaic pieces. Repeat until the picture is filled in.
Card Cutouts
Cut up lots of cards into circles, squares, half circles, rectangles and triangles. Then, let the kids paste them together into pictures.
Card Varieties
Pre-cut the cards into 2″ circles, 2″ long tear-drops, and 2″ squares.
Picture. Glue card pieces around a paper plate for frame. Draw or glue a picture in the center
Bookmark. Glue a chain of card pieces together, alternating the shapes, to the length desired. Glue three teardrops to the bottom circle for extra decoration.
Necklace. Cut a piece of yarn for the necklace. Glue on card pieced, alternating the shapes.
Paperweight. Put stones for weight in a box from instant pudding or gelatin, and tape the box shut. Glue on card pieces to cover the box. Glue two card pictures together at one end. Then spread the other end and glue them to the sides of the box.
Trinket Box. Cut out one large side of a box from instant pudding or gelatin. Glue card squares on the inside and outside of the box. Add yarn trim on the outside.
Glove Box. Use the lid from an egg carton. Cover it with card pieces.
Flower Box. Glue card pieces on any size box. Punch holes in the top and insert plastic flowers.
Name of Junior Grange Member ____________________________________ Age______
Address__________________________________________________________________
Printable PDF file: