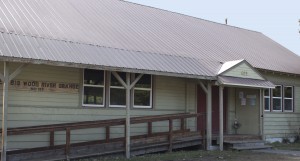 The Grange Hall is made available as a community service, and a friendly, neighborhood meeting place. It can accommodate 35-50 people with social distancing. The Grange is a vintage building with a 30 by 40 feet hall, featuring a wood floor, a partitioned stage, a kitchen and a pantry. Twelve 8-foot banquet folding tables, 50 folding and 20 stackable chairs are provided. There is a handicap ramp but the 2 restrooms, gender specific, are not wheelchair accessible. There is a modern air filtration system, but no air conditioning. The hall is located in a residential area. Its use must conform to city ordinances about noise level, parking, attendance, or other. If sound amplifiers are used, the organizer of the event need to fill out the City of Hailey Amplified Sound Application and obtain a permit.
The Grange Hall is normally available on weekends Friday-Saturday-Sunday year-round, and weekdays mid-May to end of August (excluding July 1 to 4th).
Download our printable Hall Use Agreement PDF document for the fees, and more details. The PDF is not fillable online. Note that we no longer accept reservations for parties with food.
Contact our treasurer/secretary for reservations.