The Grange Hall is available on weekends Friday-Saturday-Sunday year-round, and weekdays mid-May to end of August (excluding July 1 to 4th), and during March break.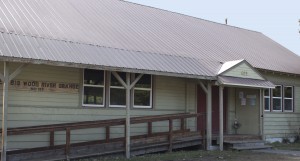 The Grange Hall is made available for multi use function as a community service, and friendly, neighborhood meeting place. It can comfortably accommodate up to 75 people. There is a full kitchen, pantry, an open 30 by 40 foot wooden floored room expanding to a partitioned stage. There is a handicap ramp leading to the main door but the 2 restrooms, gender specific, are not wheelchair accessible.There is no air conditioning. The hall is located in a residential area. Its use must conform to city ordinances about noise level, parking, attendance, or other. If sound amplifiers are used, the organizer of the event need to fill out the City of Hailey Amplified Sound Application and obtain a permit.
The fees to use the Grange Hall is $225 per day, plus security guards (ranges between $40 and $210 depending on time of day and alcohol consumption), and a $200 security deposit.  The security deposit will be refunded within 10 days upon confirmation of compliance to the use agreement. Non-profits and small scale events may receive reduced rates.
Hourly use fee for small functions, with no kitchen use, is $15 for Grange members, $20 for non-members, for a minimum of 2 hours.
View our printable Hall Use Agreement document for more details. Please note that COVID-19 restrictions may apply, and a COVID released form signed.
Contact our treasurer for reservations.