2022 EVENTS
Thursday October 6 – 8:30am-10:00am Wake Up Hailey networking event in collaboration with the Chamber and The Trailing of the Sheep. Join us for coffee, baked goods and fun!
Saturday October 29 – Contra dance with Strings Attached live music and caller from 7-9 pm – Admission is $10, or $5 for teens, free for kids 12 & under with adults. VKD (very kind donations) appreciated over the admission fee to support our effort to hold community dances again. Donations over $20 made by check to the Grange Foundation are entitled to receipt for charity donation. Capacity is limited to 35 dancers so come early!

---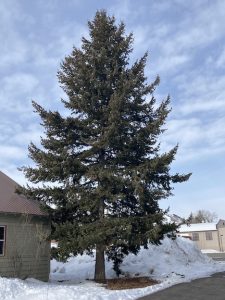 The Rocky Mountain Douglass fir that stands next to The Grange has been named the first Heritage Tree in Hailey in 2021. Estimated to be 65 years old and 55-feet tall, the native, drought-tolerant tree is a beautiful symbol for The Grange and all it quietly does to make our community stronger.
https://www.facebook.com/City-of-Hailey-1508362982788207/
The Hailey Tree Committee approved its first Heritage Tree nomination for the City of Hailey in February 2021. The Douglas Fir was probably planted by Rupert House who was a member of the Grange for many years. House is believed to have dug a small tree from his property in East Fork and transplanted it to the Grange. House was one of the community's beloved old-timers, a miner who moved to the Wood River Valley in 1936 to work the Triumph Mine. He and his wife Bonnie raised their family on a simple farm in East Fork. House served as a Blaine County Commissioner for 16 years from 1980 to 1996, and continued to be active in community organizations until his death in 2008 at the venerable age of 92.
The Rocky Mountain Douglas fir is a common and valuable tree in the Wood River Valley. The hardy evergreen conifer is native to the interior mountainous regions of the Northwest. It is frost and drought tolerant.
---
SCHOLARSHIPS AWARDED BY THE GRANGE
2021 – 2022 – Wood River High School Senior: Rae Anne Sloan
2020-2021 – Carey High School Senior: Sailor Ward
2019-2020 – Wood River High School Senior: Jennyfer Zavala
2018-2019 – Carey High School senior Chantele Nicole Styhl has been awarded $750.
2017-2018 – Wood River High School senior Analicia Koeplin has been warded $750.
2016-2017 – Carey High School senior Madison Lori Virgil has been awarded $750.
2015-2016 – Carey High School seniors Emily Squires and Kelsey Barker have been awarded $500 each.
2014-2015 – Wood River High School senior Ciceley Peavy who has been awarded $1,000.
---
Past Activities
The Chamber's Business After Hours (BAH)
The BAH at the Grange on February 22, 2018, was a great community building event!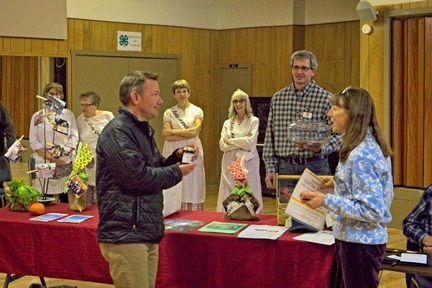 Four of our members have been crowned by the Heritage Court: Grace Eakin, Joan Davies, Marsha Riemann and Mary Ann Knight. They are unstoppable, continuing to give themselves to the community. They were definitely the Queens of the event!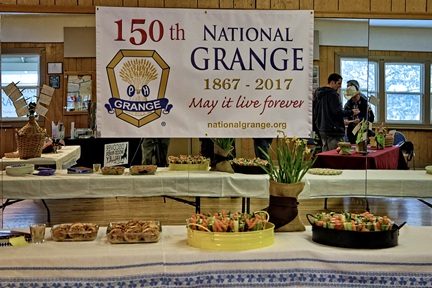 ---
2017 Community Service Award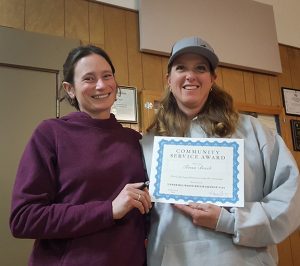 The Grange honored its own Teresa Bosch with a community service award for her lifetime dedication to serving the community as a volunteer at numerous events and for numerous organizations.
On the photo, Teresa Bosch receives the 2017 Community Service Award from Grange Master Keri York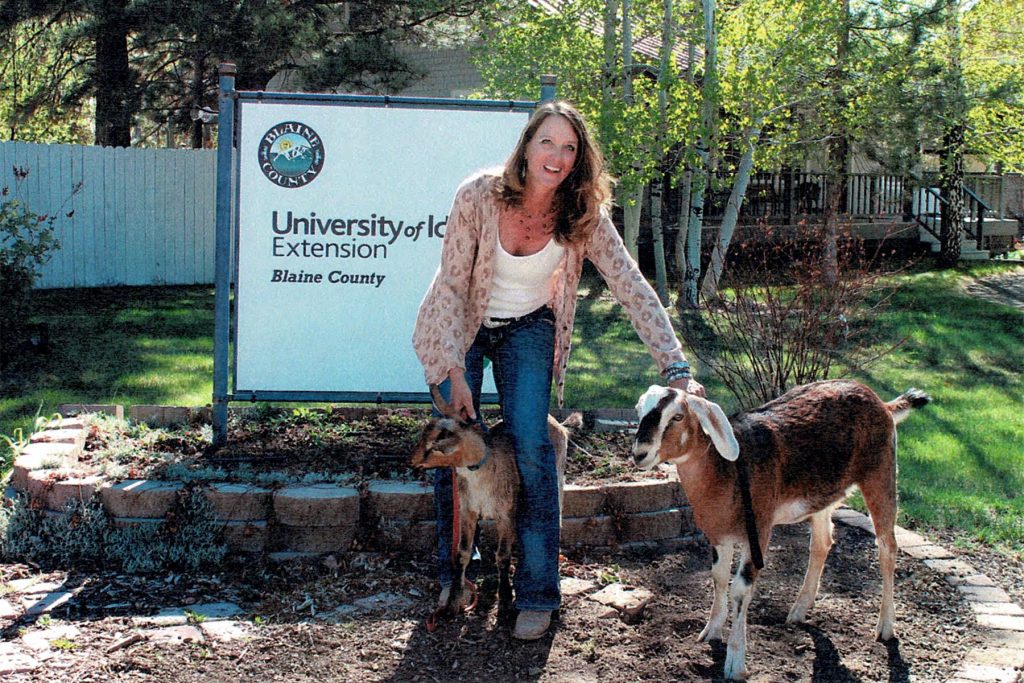 ---
2016 Hailey Fourth of July Parade – The Grange Float won second prize!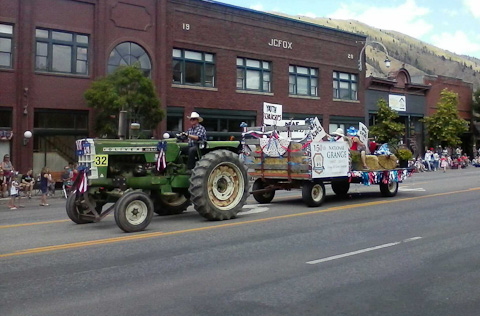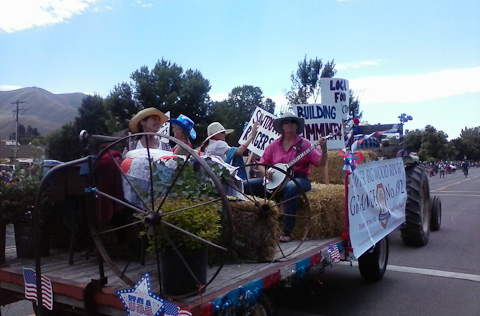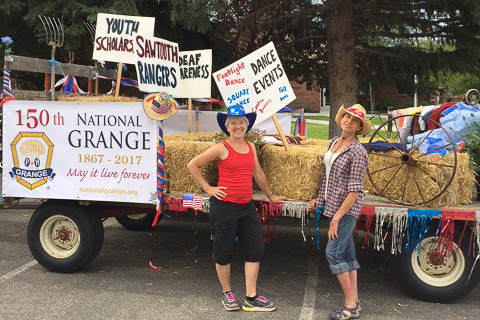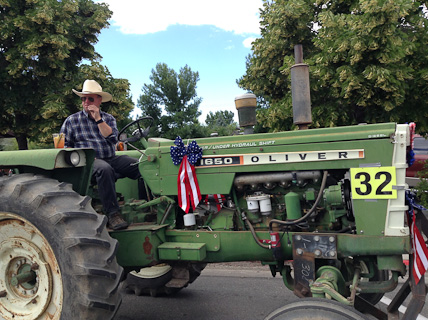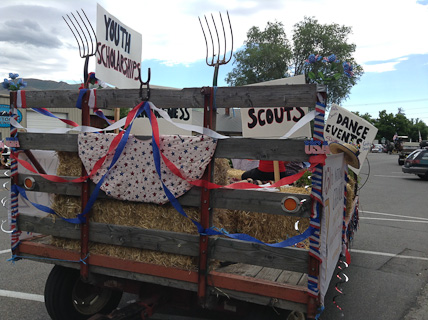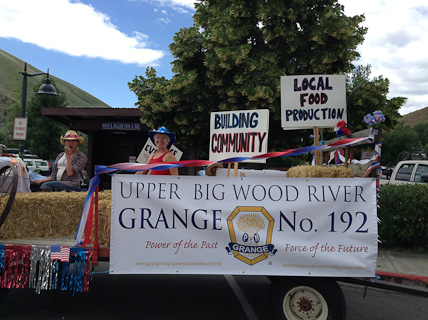 ---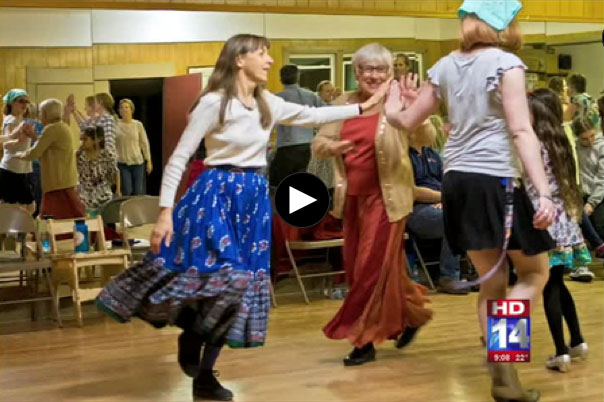 ---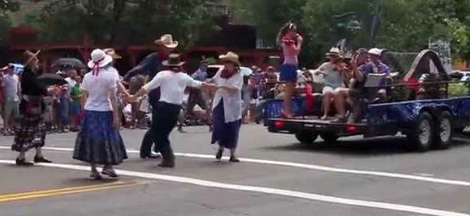 Click on the image or this link to view a video of our contra-dancers in the Hailey Fourth of July Parade.