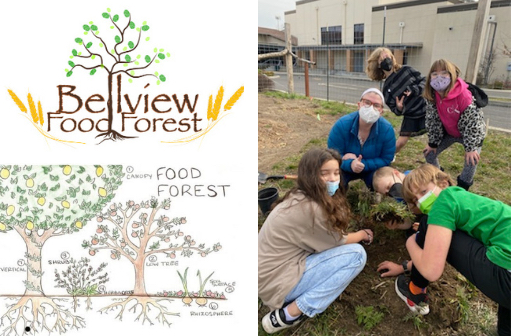 A project of Bellview Elementary School
and Bellview Grange 759
located in Ashland, Oregon, USA
For over a hundred years, Bellview Elementary School and the Bellview Grange have been neighbors. In the fall of 2021, the fifth-grade class at Bellview Elementary, members of the Bellview Grange, and farmer Chris Hardy of Hardy Seeds, began working together to start a demonstration food forest. Results: A demonstration Food Forest garden with an outdoor education experience for 5th graders about permaculture and regenerative agriculture.
To learn more about our program, please watch our video showing you how we turned an old parking lot into a Food Forest … to the tune of Big Yellow Taxi by Joni Mitchell. Now called "Made in Paradise" with new lyrics written and sung by our students.
This shows how a small piece of land, formerly a parking lot, can be used to sequester carbon, create food system diversity, and provide nutritious locally grown food.
These techniques promote the conservation of water, the positive adaptation of seeds for the changing climate, the growth of living soil, and the planting of a 7-layer forest canopy. Every inch of this "multi-strata" garden is covered with edible food plants, shrubs, and trees.
LEARN MORE ABOUT THE FOOD FOREST PROJECT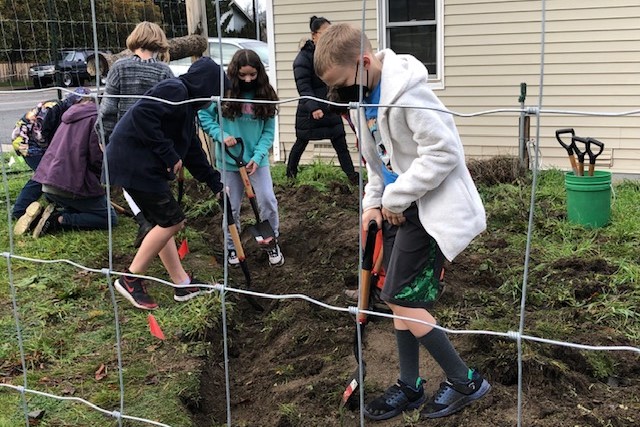 We Invite you to Support the Bellview Food Forest Today!

Online:
Click Donate processed by Emerging Futures Network.

Checks:
Make checks payable to Emerging Futures Network

Mail your check to:
Emerging Futures Network c/o Bellview Food Forest
PO Box 1316, Ashland, Oregon 97520, USA


Thank you so much for your support!
Would you like to volunteer with us? Email us at [email protected]