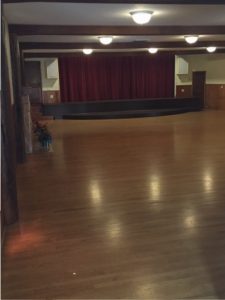 If you are interested in utilizing the Bellview Grange site as a space for meetings or public events, fill out the form below or contact the Rental Coordinator for time-sensitive inquiries.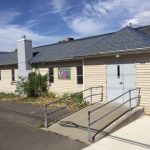 The lovely 1926 built hall has beautiful hardwood floors, two sides each totaling about 2100 square feet of useable floor space, and divided by accordion curtains, walls and doors. Capacity of the hall space is up to 250. Available for use at no extra charge are six  6′ and six 8′ tables, chairs, 60 comfortable padded chairs, and 100 padded folding chairs. See below to apply to reserve time and date for an event and see rental costs.
The main side has a raised stage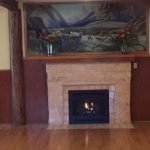 with plush burgundy velvet curtains, and burgundy sateen black-out curtains at the four windows flanking a gas fireplace.  An AV control station for audio/visual and stage lighting needs and screen, projector, and stage lighting makes it a versatile and creative space. Separate bathrooms are adjacent. The other side is a meeting/dining room adjacent to a fully-equipped kitchen at one end with two ovens, two refrigerators and dish and glass service for approximately 135 people.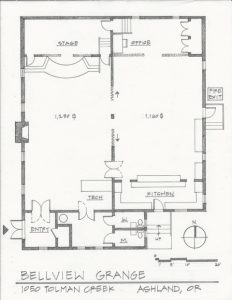 The space is available for rent for all kinds of events:
THEATER PRODUCTIONS and REHEARSAL SPACE, PARTIES,  DANCES,  WORKSHOPS,  POTLUCKS,  MEETINGS,  MOVIE NIGHTS,  COOKING & CRAFT CLASSES, LECTURES,  ESTATE and  ART SALES,  RETREATS, YOGA, STRETCH and DANCE CLASSES,  and RECEPTIONS