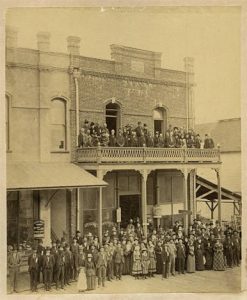 Hillsboro Grange #73 has been in the center of the city of Hillsboro since 1874. The 19th annual convention of the Oregon State Grange was held in the Hillsboro Grange's original hall in 1891. The 1919 State Convention was also held in Hillsboro.
The Grange is a nonprofit, nonpartisan organization based in more than 2,100 hometowns across America. We have 150 years of history of grassroots advocacy and have a family-oriented fraternal spirit that we're happy to share with you.
To learn more about the Grange, read our Declaration of Purposes or download a membership brochure. Learn more about programs for Grange Youth for those 14 to 30 years of age and Junior Grange for children 5 to 14.
We'd love to tell you about the exciting opportunities the Grange offers. Stop by a meeting anytime. They're always open to the public. We meet at 245 SE 3rd Avenue on the 2nd Saturday of each month potluck at 9:30 am meeting at 10 am.
American Values. Hometown Roots.