Mark Your Calendars for our Annual FALL FESTIVAL – September 27, 2014
You won't want to miss our Annual Fall Festival coming up in just a few months.
Last year's festival was a huge success – and we're looking for a repeat this year!
Local artisans, apple cider presses, information on rural gardening and so much more.
If you want more info or want to participate – come to our July 10 Planning Meeting.
Local community members getting involved and getting informed.
That's what the Grange is all about!
Sure hope you didn't Miss our Pancake Breakfast – April 26!
The biscuits and homemade gravy was a big hit!  Yum!
We'll be doing this again next year for sure.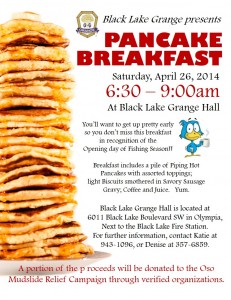 APRIL 26 – Was a very busy day GRANGERS in Thurston County!
Early Morning Breakfast – April 26
Black Lake Grange – hosted a Pancake Feed
Celebrating Fishing Season in Style.   Rise and shine early, and then drop in at Black Lake Grange to fill your belly on a mile high-stack of pancakes with old fashioned biscuits & gravy.
Family Living and Lecturer's Contests – Prosperity Grange
APRIL 26 – have your entries in by 10:00am
Contact your local Grange to see what contests are available.  Prizes!  Notoriety!  Good Eats!  What's not to love about this?
See our local grange list for contact information – or click here to get a look at our Program Handbook outlining all of the exciting contests and programs for Granges statewide!!  http://www.wa-grange.org/ProgramHandbook2014.pdf
Fall Festival
Black Lake Grange has begun preliminary activity for planning this year's
"Fall Festival" event.  Last year was simply a spectacular time!  Kids games, Apple Cider pressing, gardening and tool demonstrations – Food & Fun.  Our Fall Festival will include live entertainment, educational booths, food and drink, as well as random door-prize drawings.  You won't want to miss it!  Keep posted for updates!
Washington State Grange Convention – June 23-28 – Vancouver, WA
Black Lake Grange will be participating in the 125th Washington State Grange convention later this year in Vancouver, WA.  Many of the activities planned will  highlight the service and activities of the Grange throughout history in Washington State.
Business work at the Convention addresses a multitude of issues, primarily those raised through the resolution process throughout the year and submitted by local Granges.
Ask for a copy of our Legislative Handbook to see what pertinent issues the Grange is dealing with, and to see how you can be a part of it.