Update: Chester Royal Grange members held a very successful Grange Month activity today hosting a public milkweed seedball rolling event at the Grange Hall. We had 27 people helping make approximately 1500 seedballs for the Milkweed Matters RAGBRAI Initiative. Elizabeth Hill, representing Milkweed Matters, led the workshop and everyone helped roll seedballs.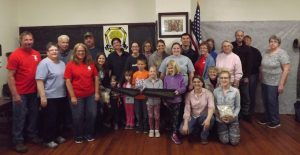 ---
Join the members of the Chester Royal Grange to roll milkweed seedballs for the 2017 Milkweed Matters RAGBRAI Initiative! We'll learn about the plight of the Monarch Butterfly, pollinator habitat needs, and what we all can do to help! The seedballs rolled during this workshop will be dried and tossed into the roadsides of the 2017 RAGBRAI route! Join the cause! The event is open to everyone and there is no cost to attend.
The event is Sunday, April 2, 2017 from 2 – 4 pm at the Chester Royal Grange Hall, 3499 20th St, Grinnell. Take Hwy 146 – 3 miles north out of Grinnell to 350th Ave and go west 1 mile to 20th St.
Come join us for a fun and educational afternoon at the Grange Hall!