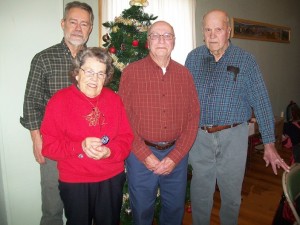 (Left to right: Muriel Brooks, Richard Brooks, Gerald Young. Background: Master Doug McCall)
Albright Grange #440, East Homer, NY, presented membership recognition seals to Richard and Muriel Brooks on Dec 5th at their annual Christmas party. They also recognized Gerard Young, who had received his seal at an earlier date.
Richard Brooks received a 70 year seal. Richard has held several officer positions throughout those 70 yrs. He has been Overseer, Steward, Assistant Steward, and Executive Committee member. He has also been Master at different times. Most recently he held the Master's office or 18 years, retiring from that position in 2013.
Muriel Brooks received a 65 year seal. Muriel has also held many different offices. She has been Ceres, Secretary, and was Lady Assistant Steward for several years. Muriel served as Family Activities Chairperson for many years, retiring from that position this year. She also helped with degree work and was on the drill team. Muriel stated, "Grange work has been good to me and for me."
Gerald Young was given a 70 year seal. Over the years Gerald has always been willing to donate his time and money to support Albright Grange. For many years he has donated squash, he has grown, and helped prepare it for the annual grange chicken and biscuit dinner.
Albright Grange members are thankful for the contributions of these member's time and talents. Image in today's world, 205 years of combined service.