Garden Docents
Community service for our food shed
The Garden Docent program is a new initiative under the wing of the UBWR Grange. The program includes training and coordination of volunteers interested in assisting our community in growing vital foods.
Goal – Engage and train community members to facilitate the work, learning and social interaction of volunteers at community gardens.
What – A Garden Docent is a person who leads educational tours and assists guests. It's a volunteer who helps other volunteers or visitors. Trained Garden Docents will guide other volunteers in any of the community gardens in the Wood River Valley, or even at one of our local market farms when they hold community events. Docents would also be hosting visitors when the public is invited to an open garden visit or celebration.
Why – Volunteers are an integral part of the success of our food shed. The intent of the docent program is to serve the whole community with a focus on access to fresh healthy food for everyone, including the various community gardens, school and after school youth programs, as well as family, adult and senior programs. It is about the community getting together to engage in healthy and sustainable living.
Who – Garden docents can be gardeners or gardeners in training looking for social interaction with their community. A candidate may already have any level of gardening knowledge, or just be eager to learn how to grow food and flowers. It is someone who is enthusiastic and enjoys social interaction with people of all ages. It could be someone having physical limitations but with the ability to engage socially with their fellow community members as stewards of our local food shed.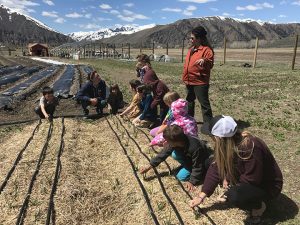 When & Where – Garden Docents will be volunteering during the growing season. Training and social gatherings may occur any month of the year. For 2018, Garden Docent opportunities with The Hunger Coalition's community food production sites (Bloom Community Farm and the Hope Garden) in Hailey will be from May through October. Other locations and times will be added as the program grows to serve educational gardens, local green houses and even market farms.
How – Enroll by contacting Manon Gaudreau, [email protected], 208-788-3876. Our first information session will be on February 27, 2018, between 5:30 and 7:00 pm at the Hailey Public Library, 7 Croy Street West in Hailey