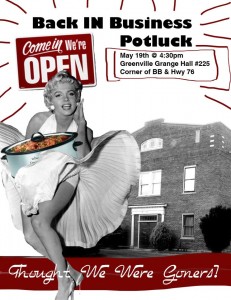 Our Back in Business potluck was a success! Lots of people! Old friends, new friends, state and national members and even a county executive. We were so pleased with the turnout in welcoming us back and celebrating with us. We had approaches with interest on both renting the hall and on membership. Not to mention lots of interest in our upcoming fundraising events.
We'd like to thank everyone but also to the Fox Valley Folk Dancers who thru a tremendous International Folk Dance workshop with various teachers and a potluck lunch and dinner. After dinner we had a remarkable social dance with the band, Ethnitricity. There was a silent auction also. The profits from this event were donated to us in an effort to help pay for our new septic which miraculously got put in just two days prior to the event. Weather was not exactly cooperating but it all turned out in the end!
It was wonderful to see our hall filled on both occasions with food, fun and friends. Our group is very excited at our progress over the last few months and also there is a flurry of cleaning and organizing, building repairs, event planning and fundraising, gaining media exposure, and community outreach. We welcome new members and volunteers. It's an exciting and rewarding time to be involved with the South Greenville Grange.
We have many plans for our future so stay tuned!