Russellville Grange No. 91 of Oxford, Pa., recently honored two outstanding community citizens and several members for their years of service to the Grange.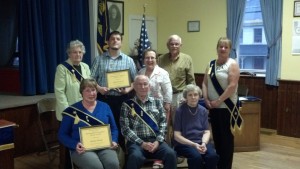 Michael Ruoss, of Kennett Square, was recognized for his volunteer work in numerous community organizations, Jennersville Regional Hospital, Genesis Health Care, Kennett Food Cupboard, and Good Will of Oxford, to name a few.  He has been inducted into the National Technical Honor Society because of his academics and participation at the Technical College High School.
Grange member Melanie Murray, of Cochranville, was recognized for her past service as corresponding secretary and in other offices in Russellville Grange. She has also been active in the Pomona (Chester County) Grange and currently serves as its Vice President.
Membership awards were presented to Howard Reyburn for 25 years of membership; William Garrett, Arthur Hershey, and Joyce Hershey for 30 years; Nadine Hook, Frances Reyburn, and Dean Yarnall for 40 years; Harold Bryson, Jr., for 50 years; Frances Astle for 60 years; and Francis Watterson for 70 years.