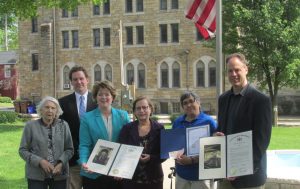 Mary Ann is being recognized for her dedication to the Good Shepherd Center.
In February of 2015 The Good Shepherd Center's roof began to leak because of bricks falling onto it. In Sept. 2015 the former_Moss Building was declared unsafe.
This resulted in the closing of Main Street and The Good Shepherd Center had to evacuate their building. Mary Ann never lost hope and quickly got things relocated;
Clinic – Zions Church, The meal program – Knights of Columbus, and the clothing store at 5 Clinton Street. Now they have a new home at 10 N. Water St with the retail shop is already in operation. The meal program and was recently moved to the new building. The next project will be moving the clinic over.
Mary Ann knew the community needed these
services in the area and now they are becoming a reality.